Life Skills Institute partners with Chickasha EDC to keep downtown clean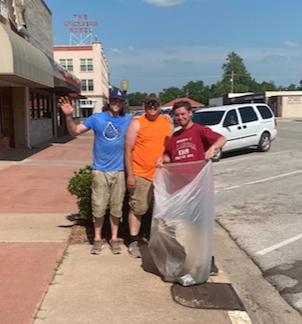 The Chickasha Economic Development Council is working with local non- profit Life Skills Institute to provide weekly trash and weed control for Downtown Chickasha. Crews from LSI started walking the streets of Downtown last week. They will go down both Chickasha and Choctaw avenues from 1st to 6th Street picking up trash and working on weed control. 
"We are glad to be involved in this weekly clean-up of Downtown and partnering with the EDC and the Downtown merchants," Zack Bowles, Executive Director of Life Skills Institute, said. 
The EDC will be asking Downtown Merchants to sponsor one month of these services by making a donation to Life Skills Institute and their work program. Several businesses have already signed up to sponsor a month and others are expected to also sign up soon. Jim Cowan, Executive Director of the EDC, said "As we work on Downtown revitalization it's important that we focus on the small details. Having work crews from LSI helping us on a weekly basis will help us do a better job of sustaining a clean Downtown and not just doing a Spring and Fall clean-up."
Other cosmetic improvements are planned to be completed for Downtown in time for block parties like Christmas in July, The Oklahoma Food Truck Championship, Rock Island Ride and Rock Island Arts Festival, the opening of the new Park and the Christmas Parade.